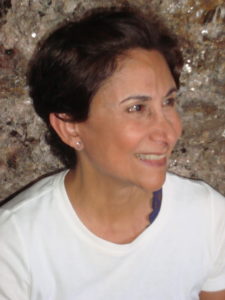 Anatha has a Master of Arts degree in Counseling from St. Martin's University. She is a Coach and Spiritual Director for individuals seeking a creative, purposeful life.
Anatha is an artist, speaker, educator, author of two books and avid world traveler. Her first book, Bones, Blessings and Miracles: Reflections on Living the Creative, Purposeful Life, is available in paperback from her website and also on Amazon Kindle. Her second book, Tarot and the Twelve Powers: A Journey for the Heart and Soul, along with her originally created Tarot deck is available from her website.  Books can be found here:  http://www.attarcoaching.com/books.html
A student of world religions, she started her art practice to learn the craft of painting Christian and Buddhist icons. She enjoys sacred travel, making pilgrimages to the holy sites of all religious faiths..
As educator, Anatha enjoys teaching participatory, experiential classes, using reflective questions for journaling, relaxing music, guided imagery, poetry, and shared personal experience. In her words, "Heart-felt stories, inner wisdom and laughter build community. Friendships are formed or deepen, and our sense of place and purpose expands. Stories shape and give meaning to our lives; they are the heart of community."
Classes taught at Unity of Centralia are on 3rd Saturdays of each month from 1pm to 5pm. Classes available on line are through easy to use Zoom technology. Individual sessions may be in person or via Skype, Zoom, or Facetime.
Please register for classes and see all that is available for you at:
Anatha's Sharings
( if you want a smaller format, email Tom ) 
July 22, 2018 – Light
612 MB
June 24, 2018 – Community
754 MB
June 10, 2018 – Gathering
823 MB
May 27, 2018 – Italy
1005 MB
February 25, 2018 – Transformation
1065 MB
February 4, 2018 – Wealth
703 MB
January 28, 2018 – Sufism
1036 MB